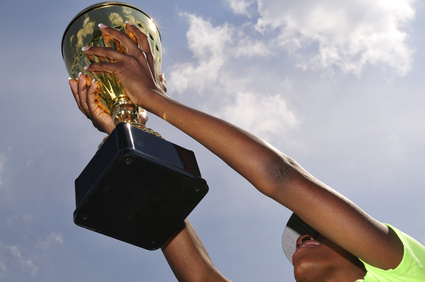 Trophies are perfect souvenirs to be forever cherished.  These items are given as a memento from an event, a sign of membership or recognition of some kind of accomplishments.
Trophies can be bestowed for things such as office, sporting and scholastic achievements.  For academic awards, the trophies are bestowed for being best in various subject and class proficiencies. By far, the most popular trophy awards are in the realm of sports.  They are given in games like golf, cricket, basketball, football and tennis among just a few – and are very coveted amongst athletes.  The sight of photos showing athletes weeping with joy and lifting their hard-earned trophies are one of the indelible imprints in modern society's mind.
Trophies are occasionally bestowed in recognition of business accomplishments and targets or even for merely attending training programs. Trophies are often given to fellow members of elite organizations and clubs.
To promote originality and interest, trophies are usually different in design and make.  There are establishment that create custom trophies.  These trophies are made and singularly crafted for special occasions, events and people.  One great example is the Oscar statue, custom-made for the American Academy of Motion Picture Arts and Sciences or simply called Oscar awards.
The materials that often used for making trophies include crystal and glass, plastic, enamel resin and acrylic and sometimes silver or gold is used too. The trophy's design comes from the client's mind. Generally, conventional looking trophies sport a cup-based design. Unique trophy designs can look like Rolls-Royce grilles resin sports jerseys or bobble heads.
A trophy for baseball will have a player that pitches the ball or a baseball itself fashioned out of metal.  Sometimes it can look like a baseball-player bobble-head or a baseball jersey each with customized markings.   For the game of golf, trophies can have the image of a golf kit, golf ball or a golfer teeing away.  Trophies for soccer will feature a player in action, a goalie or a soccer ball with etched wordings or picture.
A customized trophy makes the trophy valuable and unique.  When it comes to these kinds of trophies in Miami, often the cost does not matter but the creativeness of the work.  At Millennium Awards you will never run out of models of custom trophies of all designs sizes and shapes that you can be proud of.