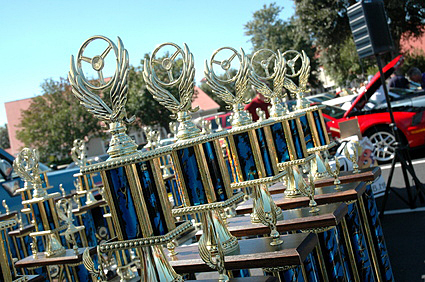 Trophies are a souvenir or testimonial to our accomplishments in life. So, if you are contemplating of ideas for your trophy, you can add a personal touch so may it may end as truly special for the awardee. Looking online for a good trophy supplier and manufacturer is a great place to start.  If you want  to give out trophies for unique awards, then consider designing customized trophies.  Customization is an ideal way to have priceless and singularly terrific trophies.  A good Miami trophy maker can provide with unique trophies for different occasions be they small or big.
A great custom trophy manufacturer can serve you with perfect awards for all winners, be they participants scholastic achievers competition winners, your team or anyone who has accomplished anything deserving of an award.  Some great best trophy ideas can be:
 Football Trophies – Go online and seek out ideal trophies for skilled footballers of a winning team. One great football trophy image is a trophy shaped like of a football.  You can select too the material to use for the trophy – crystal, metal, enamel or plastic.
Baseball Trophies – you cannot end a baseball season without giving out trophies.  There are a lot of baseball awards to design and you can customize trophy designs by all the players who deserve trophies; winners and non- winners alike.
Belt Buckles – Belts are great ways to award winners of their accomplishments.  Some trophy designers craft very fine belt trophies with buckles.  You can add colors, pictures, engravings and other things to give it more panache.  You can likewise select different metals to award winners of different categories: gold, silver, pewter or bronze.  With children and adolescents, you can award them with trophies that appreciate the good game that they played to inculcate in them the spirit of respect and sportsmanship for the game.  With this in mind, you can design an array of trophies for winning and motivating categories such as 'Best Sportsmanship', 'Fastest Runner', 'Best Attitude' and 'Most Improved' among others. Always remember to include the engraving in each trophy.  They are essential for personalization.  If you run out of inspiring messages just go online to find great messages and quotes.
A trophy is a symbol of victory and praise, therefore, it ought to be truly special for the awardee.